Car Jump Start Service
We offer the most reliable jump start car service at Riggs Roadside Assistance in Rock Hill, SC. Our highly-trained technicians are available 24/7 to provide fast and efficient assistance. We use only the latest tools and technology to diagnose your vehicle's battery issues and quickly get you back on the road.
We also provide various other services, including tire repair and replacement, lockout, fuel delivery, and more. Our team is dedicated to providing quality service at an affordable price so you can get back on your way safely and quickly.
Contact us today to learn more about our jump-start car service!
What is a jump start car service?
If you're ever stuck with a car that won't start due to a dead or weak battery, don't fret! That's where a Riggs Roadside Assistance's jump start car service comes in handy.
Our automotive superheroes provide a power boost from a separate source (like our portable battery chargers or even our vehicles) to get your engine going again. With jumper cables ready, we will connect your dead battery to a charged one, allowing some of that energy to transfer and give your vehicle the jolt it needs. Before you know it, your car will be humming like nothing happened.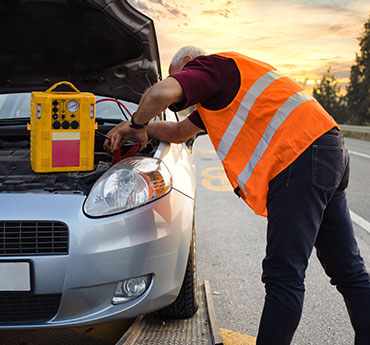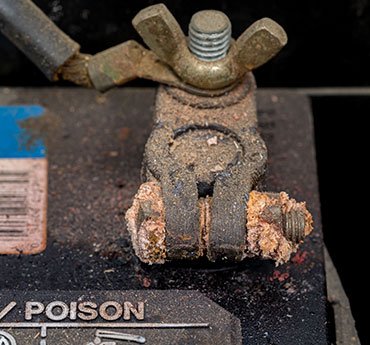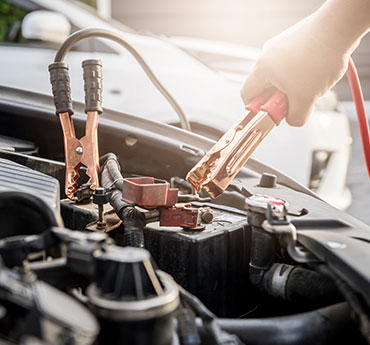 Services Areas:
Riggs Roadside Assistance provides fast and reliable jump start car service throughout the greater Rock Hill, SC area. Our experienced technicians have years of experience providing quick and safe car assistance and can give you peace of mind on your next journey.
Whether you are stuck in an unfamiliar part of town or need a quick boost, our team is here to help. We will ensure your car is back in working order quickly so you can get on with your day without further delay.
Call us at (803) 288-7376 today to learn more about our jump start car service!
North Carolina
Belmont, NC
Charlotte, NC
Gastonia, NC
Kings Mountain, NC
Matthews, NC
Monroe, NC
Mt. Holly, NC
Pineville, NC
Waxhaw, NC
South Carolina
Chester, SC
Clover, SC
Fort Mill, SC
Indian Land, SC
Lake Wylie, SC
Lancaster, SC
Richburg, SC
Rock Hill, SC
Tega Cay, SC
York, SC
Frequently Asked Questions
Can I jump start my car by myself?
Getting your car jump started is a task that can be done solo, but it's important to exercise caution. Attempting this on your own without expertise may put both yourself and your vehicle at risk. It's wise to seek assistance from a friend or professional to ensure that your car is up and running without a hitch.
What are the risks of jump starting a car?
Jump starting your vehicle can be a risky business. If not done correctly, it can cause electrical shock, battery explosion, and even damage your vehicle's electrical system. But don't worry; with the proper safety precautions and procedures, you can safely bring your car back to life. Let us guide you through the process to ensure a successful jump start without mishaps.
Can I jump start a car with a different size battery?
While it is technically possible to use a battery with different specifications, such as voltage or ampere rating, it has a severe risk of damaging your vehicle's electrical system or creating a safety hazard like a fire. Don't take any chances – always use the correct battery size and type to keep your car running smoothly and safely. Our team is here to help you find the best options for your particular make and model.
How long should I let my car run after jump starting it?
Ensure your car has enough juice to start, especially after a jump start. Give your vehicle some extra love by letting it run for 20-30 minutes, allowing the alternator to recharge the battery. This will give you the peace of mind that your car will start up quickly the next time. Don't shortchange your battery by turning off your vehicle too soon!
How often should I replace my car battery?
Be sure to stay on top of battery replacements! While most car batteries last 3-5 years, experts advise replacing them every 4-5 years to avoid unexpected outages. By prioritizing regular maintenance, you'll keep your vehicle in tip-top shape and prevent frustrating breakdowns. Let's keep those engines purring!
Can a dead battery be recharged?
Recharge your dead battery with ease! Jumping your car and waiting for the alternator to recharge can be painful. Instead, consider using a battery charger to revive your dead battery. Remember that if your battery is beyond repair, it may be time to replace it. Don't let a dead battery hold you back – try charging it yourself!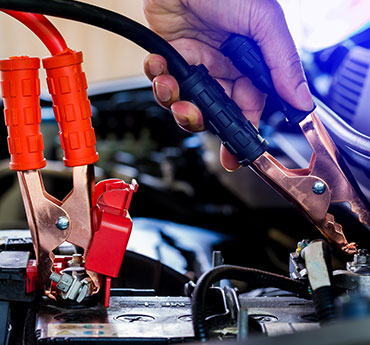 Why People Need To Jump Start Their Car?
Locked out by mistake
Lost, stolen or broken car keys.
Locked out of a vehicle due to an electronic malfunction.
Damaged locks that doesn't work properly.
Locked doors caused by faulty security systems.
Lost transponder keys and/or remotes.
Resources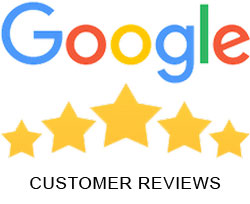 Customer Approved!
"Highly satisfied with my service tonight. The man who helped me was professional, kind, fast and did the job right. He arrived before the projected arrival time, and was done in less than 2 minutes. I highly recommend these guys for all of your roadside assistance needs!"

– Sarah W.